Book Title: Opposition (Lux #5)
Author: Jennifer Armentrout
Rating: 
"I knew in that tiny second as we stared each other down that this was the beginning and this was also the end. The Luxen were truly invading."
This is the last book in the Lux series, and I'm sad that it's come to an end. I have mixed feelings about Opposition. Some things I loved, and other things left me feeling "meh". I'm actually dreading writing this review, because Jennifer Armentrout is one of my favorite authors. I was so excited to start Opposition and see how the Luxen battle would all go down, but once I finished it, I was left feeling unfulfilled.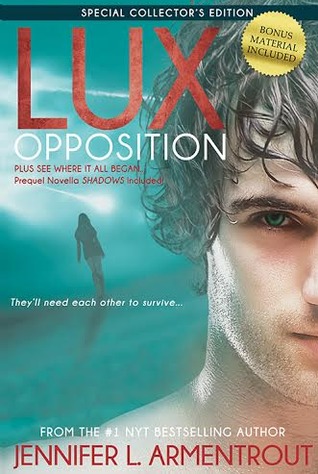 So let's start with the good:
One of my favorite things about Jennifer's writing is her use of witty and sarcastic banter. Her dialogue never feels stiff or forced. It's casual and real, like I'm witnessing a conversation between friends. I loved all the Harry Potter and Avenger's references. Some people didn't care for it, but it was one of my favorite things about the book.
"We really could use the Avengers right about now."
"Screw that. We need Loki," Daemon retorted.
Another thing I loved in this book was, of course, Daemon. He never disappoints and I loved how he let Katy be a badass instead of trying to keep her in a bubble the entire time. I don't know why some reviewers said he was being too overprotective. I didn't get that at all from Daemon. Sure he wanted to protect her, obviously, but he never held her back. She's been through so much in this series and I'm glad she was able to grow and still kick ass even when she was at rock bottom. If I was in her shoes, I'd be sitting in corner, rocking. So props to Katy.
"Get your hands off him." Sadie's head snapped in my direction.
"Excuse me?"
"I don't think I stuttered." I took a step forward. "But it looks like you need me to repeat it. Get your freaking hands off him."
I also loved getting to know Archer more and I'm glad there was more Luc. God that kid cracks me up! He's hilarious and I wish that this book would have delved deeper into his character but maybe Jennifer will do a spin-off? He's a character screaming for his own book, at least in my opinion.
I'm a hopeless romantic, so of course I loved the mushy moments between Kat and Daemon, however, that's also something I didn't like. Why? Well, because there was too muchof it. I felt like most of their make-out/sexual encounters were filler. She could've used that space to go deeper into the plot and explain things that were left unanswered.
This book also felt a little formulaic for me. Like she was checking things off a list. Everything happened too quickly and too easily. Especially in that final battle. The "solution" was too easy and there was all this build up for nothing. I had expected this badass epic throw down, but it never came. I don't want to give too much away, but I'll just say that how things were resolved left me wanting more action and definitely more answers. I don't know if Jennifer was rushing to meet a deadline or what, but I know she could have delivered a better final book than this.
Like Sentinel, the final book in the Covenant series. That book blew my freaking mind! Hell, that entire series was incredible, but Opposition is definitely my least favorite in the Lux series. This will not stop me from recommending this series, or reading Jennifer's other books. Even though this book was a letdown, she is still one of my favorite authors and I look forward to reading her spin-off series with Seth, The Return *insert girly squeal*
"I broke every rule of my kind to heal you and keep you with me. I married you and burned down an entire city to keep you safe. I've killed for you. Did you think I'd forget what you mean to me? That anything in this world- in any world- would be stronger than my love for you?"
Buy Link: